Beginner Private Training Classes Enrolling In September
This program is designed for the person who is limited in time availability but has the desire to learn Jiu-Jitsu techniques for self-defense and fitness. Private Training can benefit you in many ways, including:
More exact and focused lessons
Greater retention of the knowledge
Flexible training schedule
Tailored lessons to your specific needs
JIU-JITSU PRIVATE LESSONS ARE THE BEST WAY FOR YOU TO CONNECT WITH YOUR TEACHER AND GET THE ATTENTION YOU DESERVE!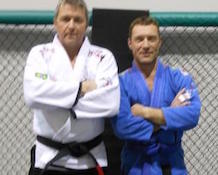 "My busy schedule as a Professional Physician Assistant alone with raising my children and responsibilities at home leave me with little time for extra activities. My Private Jiu-Jitsu Training is exactly what the Doctor ordered! I am able to focus my time on results oriented training. Thank you Chris for your help!" - Joe
PRIVATE JIU-JITSU TRAINING AT THE MARTIAL ARTS ZONE IS THE BEST DECISION YOU'LL MAKE FOR YOUR FITNESS AND SELF-DEFENSE!
CALL TODAY AT 603-206-5716 OR JUST FILL OUT THE SHORT FORM ON THE SIDE OF THIS PAGE TO SCHEDULE AN APPOINTMENT THAT WORKS FOR YOU!